Main content starts here, tab to start navigating
What We Do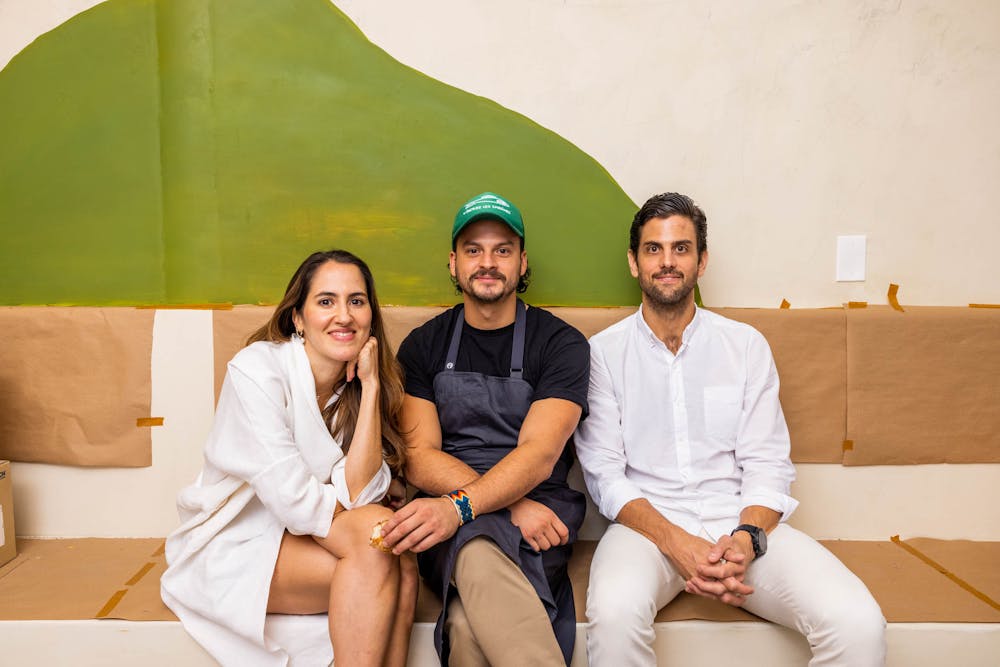 They say the kitchen is the heart of every home. At the heart of this Coconut Grove eatery you'll find Chef Sebastián Vargas whose resume boasts Michelin-starred restaurants Osteria Francescana in Italy, Eleven Madison Park in New York City, and Fäviken Magasinet in Sweden.
Finding his passion for gastronomy while living in New Delhi, India, our well-traveled chef offers his global worldview through his craft in ways unexpected. Beyond an on-the-nose interpretation of utilizing "exotic" ingredients – though don't rule these out – Chef brings the cultured wisdom of someone who understands how small the world truly is, that we are more alike than we are different, and is able to put the bigness of a heart stretched by 7 countries and 4 continents into every meal.
Featuring an evolving menu based on the freshest seasonal ingredients, at Krüs, Chef realizes his culturally-engaged POV to provide a one-of-a-kind dining experience. With a focus on consciously curated ingredients, fostering real relationships with farmers and vendors, the high vibe end-result serves above all else, an open-ended invitation for Miami to reach-in and become a part of the Krüs community.
To book a reservation, or for take-out and delivery options, visit our Kitchen where you'll find our seasonal lunch menu featuring vegetable forward bowls, invigorative salads, wholesome sandwiches, homemade market goodies and more. We also feature a rotating evening menu that adds yet another layer of vitality to the offerings, showcasing the synergy between Chef's imagination, ingredients at their peak freshness, and the inspiration offered by Miami herself.
Krüs Market
As the birthplace of Krüs, Miami isn't just where our brick and mortar stands, she's part of our love language.
While the market features plenty of staple items handmade at Krüs Kitchen, we also placed focus on telling the story of Miami through a thoughtful curation of seasonal items from fellow Miami-based entrepreneurs.
The result is an ever-expanding list of partnerships with local companies and innovators from the area, including farmers, growers and otherwise like-minded creatives who approach their respective crafts as storytellers often do: with high soaring passion that keeps a birds-eye view but with hearts firmly grounded in every careful detail. Our chosen crafts may vary but we all labor in love.
Our collaborations have included Tiny Farm, Imagine Farms, Ana Cacao, Frice Cream, and The Conscious Bar to name a few. When we're unable to source from local companies, we prefer to work with domestic producers for items like cheese, charcuterie, etc. For select specialty items and produce, we don't compromise on quality and only work with the absolute best like Natoora.com.
All of our artisanal market provisions including boxed-meals, specialty gift sets etc., are underpinned by the cookie-jar concept of Krüs. Ours is the market to get something special, to reach in to honor the connection with the community you live in, and a welcoming place to meet your neighbors.
All market purchases are eligible for local delivery or pick-up at our HQ in Coconut Grove.
Krüs Wine
The kitchen may be the heart, but Krüs Wine is the seat of our soul. Helmed by resident wine expert and Krüs co-founder Josh Hackler, Krüs Wine continues our ethos of seasonal, thoughtful curation. With wines selected through a Farm to Glass perspective, our focus is on producers practicing natural, organic and biodynamic wine-making with a spotlight on the up-and-coming tastemakers and innovators who are at the forefront of artisanship in the wine world.
Informed by Josh's expertise, discerning palate, and endless thirst for knowledge about both traditional and new frontiers in viniculture, ours isn't just a wine shop, it's a call to explore the unknown, to name the ephemeral, an entry point into a wider story, and a new portal of adventure. Like we said before, it's about soul.
Through comprehensive offerings that include our ecommerce wine shop, weekly newsletters and wine events, articles that will cover everything you'd ever want to know, and a subscription wine club, we were thorough in our world-building to enhance and support your experience of wine.
Elevated but unpretentious, our open-minded approach is one of guiding and sharing information. Gone are the days of rigid rules, gatekeeping and binary thinking; as the kids say, the future is fluid. We're not interested in telling you what to think or how to feel about wine, we endeavor to offer you an invitation to reach in and arrive at your own conclusions.
Visit our wine world (and sign up for all the things!) here.